sushi catering
Sushi catering!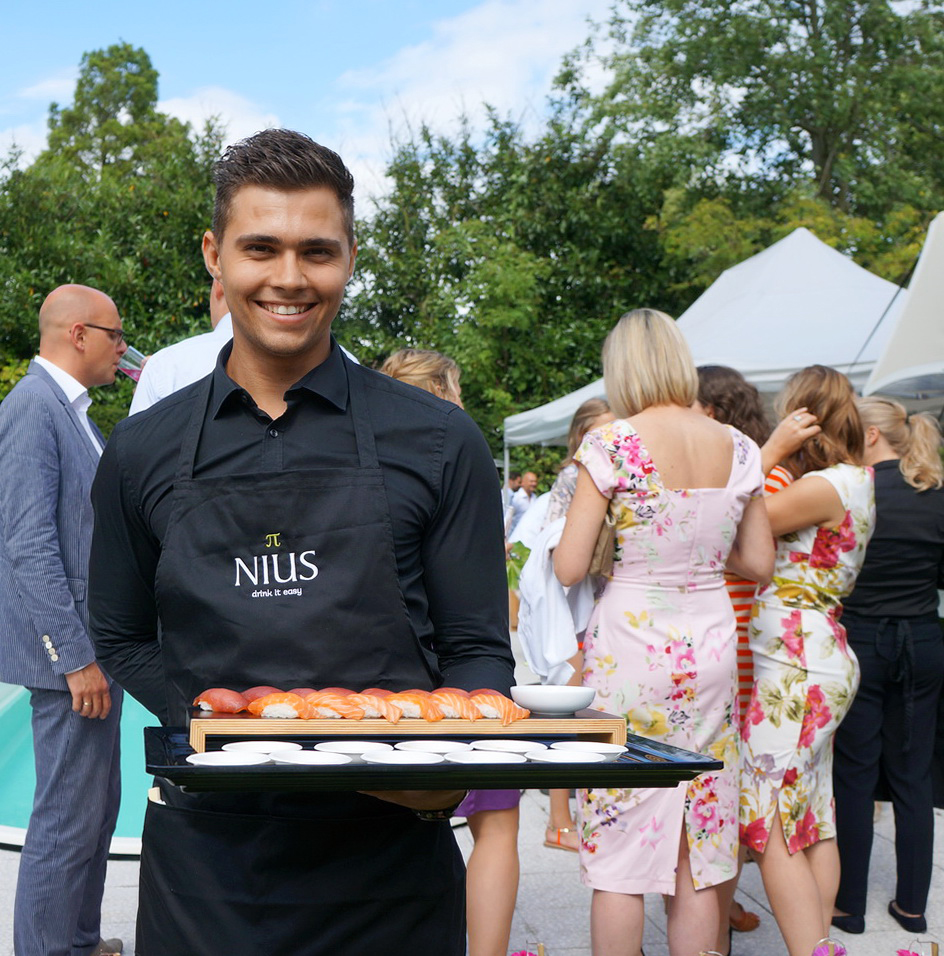 It is a successful formula.
Taji has performed extensive environment such as business fairs, company opening party, museum opening party, wedding reception party, birthday party, Taji has been hosting at variety event type.
Sushi price:
1.8 euro/piece – performance – fewer selection of sushi type, using limit type of fish.  (not include tuna)
2.1 euro/piece- hybrid – most recommended and selling sushi type.  It covers wide range of fish and well balanced sushi line up. (include tuna)
2.6 euro/piece – premium quality – based on the higher price range line up, as well as fillets size is cut bigger.
Extra cost:
Transportation, parking cost, administration cost apply on top. Disposable, rental cost can also apply.  As a reference, transportation cost to Amsterdam is 65 euro.
Starting fee:
Starting price of sushi catering is 350 euro.
This includes almost everything and even a transportation cost.  What it does not include is vat, parking cost and possible assistant cost.
Assistant cost:
When the group is big or it needs to be finished in short time, it is possible to assign assistant as a part of workshop team.  The price/assistant is in the range of 70-130 euro.  When received an assignment, this will be discussed.
Location setting:
I would need a table with 90cm height and the length can change according to the size of the catering.
Table is the only thing I usually concern.  I do not need a water access on the location.
I can be hidden with production in behind the main space, or place table in front of the guests like a show.
Optional item:
Fresh wasabi: 40 euro (This is true wasabi root and it is highly recommended)
Very smooth sake: 25 euro
Additional food:
It is possible to add a few light items such as soup and sweet, if you would like to make it more the jp dinner feel, this is good for you.  Please consult.  Please note the main thing is sushi.  If you would like complete Japanese dinner, that is possible, but it will be discussed as a separate subject and different condition will apply in that case.
Restriction Ingredients:
Do you have allergy?  Are you into Halal?  Are you vegetarian?
Food is very personal and it is no problem, I can adapt all of your request, so please feel free to let me know.
Note:
all price listed here is based on ex vat.